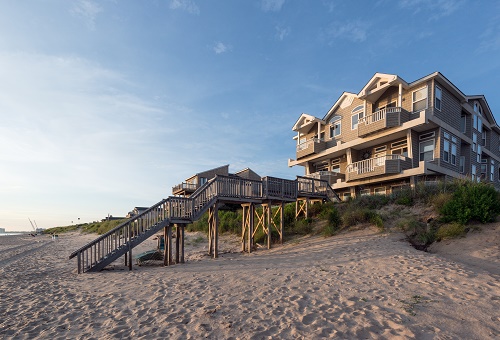 RealTimeRental's new vacation rental distribution channel, Rental Retreat, expertly combines the modern online travel experience with the protection and reliability of booking a rental through a traditional real estate or property management company.
"Rental Retreat fills a void in today's vacation rental market. Travelers love the experience of searching for vacation rental properties online, but very frequently travelers were apprehensive about booking a rental home sight unseen directly though the property owner.
We wanted to create a place online, where travelers could easily connect with multiple professional vacation rental companies across the country. Travelers can have peace of mind knowing that all of the vacation rental listings on Rental Retreat have been inspected and approved by professional real estate or property management companies," said Joe Testa, co-founder of RealTimeRental vacation rental software.
The 50,000+ rental properties hosted onRental Retreat are updated frequently and have availability calendars that are updated in real time by the property management companies using RealTimeRental vacation rental software. Travelers can be assured that the listings on Rental Retreat contain the most up to date information available.
"Rental Retreat was designed with real estate and property management companies in mind. We wanted to make a simple, easy, and affordable way for professionals in the vacation rental market to increase the online presence of their rental properties," said Sherry Tomasso, co-founder of RealTimeRental vacation rental software.
Rental Retreat, powered by RealTimeRental, gives real estate offices and property management companies a way to seamlessly increase their rental properties online visibility.
"We are very proud of the performance of Rental Retreat so far. The average booking amount is $2,780 and the lead conversion rate is well above the industry standard at 29%," said Tomasso.
RealTimeRental has been working closely with web developers, social media consultants and top SEO professionals to ensure the success of the new distribution portal.
Real Estate offices and professional property management companies interested in hosting their rental inventory on Rental Retreat can contact RealTimeRental for more information.
http://www.RealTimeRental.com is the premier vacation rental software solution for 200+ rental offices in the US, Caribbean, Mexico, and Costa Rica. As a cloud based software, RealTimeRental clients have peace of mind that their reservation management system can be accessed 24/7 via the cloud. Additionally, RealTimeRental offers a fully integrated trust accounting package and marketing options for rental property managers, including the vacation rental website http://www.RentalRetreat.com. For more information on RealTimeRental vacation rental software or Rental Retreat please visit the website or call 888-828-2303.